Description
Details
Motif X Overview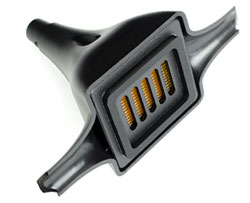 Motif X is the world's most versatile electrostatic on-wall speaker with advanced electrostatic and Folded Motion technologies carefully balanced to maximize performance and installation flexibility.
XStat™ Transducer & Folded Motion™ Tweeter
What really sets the Motif X apart is a innovative Folded Motion tweeter embedded directly behind the XStat electrostatic panel in a unique housing that gives the visual look of a seamless electrostatic panel. By eliminating the need for a bulky tweeter-housing mounted in front of the ESL panel, the Motif X all but eliminates high-frequency diffraction. This unique mounting system also increases mid-range/high-frequency phase coherence and time alignment while offering superior dispersion characteristics. Folded Motion tweeter technology proves an ideal match for the electrostatic transducers, providing lightning fast transient response combined with a large surface area (8-times that of a typical 1" dome tweeter) to create clear, dynamic and precise sound.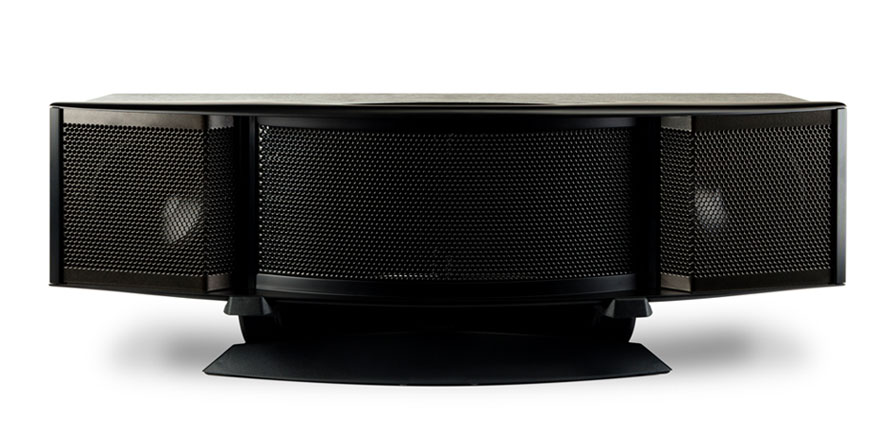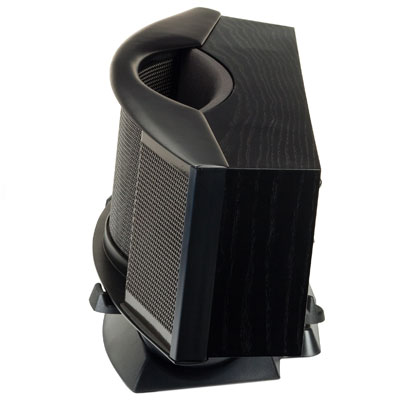 Curvilinear Line Source Electrostatic Panel
Advanced MicroPerf stator technology dramatically increases the sound-producing area of MartinLogan's latest-generation CLS™ electrostatic transducer. This increase in effective radiating area translates to higher efficiency and an even more effortless, unlimited dynamic presentation. The XStat pulls no punches!
But there's more to it than just putting more holes in the stators, which must maintain uniform spacing in front of and behind the diaphragm to exacting tolerances. They cannot flex. Motif X firmly anchors the transducer's working elements—stators and diaphragm—around their periphery, while ClearSpar™ spacers stiffen the assembly further across its width. ClearSpars enable precise, consistent tensioning of the Vacuum Bonded diaphragm without obstructing the floating, see-through look that is the visual hallmark of MartinLogan electrostats.
In the end, a speaker cannot outperform the signal feeding it. MartinLogan's state-of-the-art toroidal transformer and electrical interface engineering ensure an absolutely transparent link from amplifier to electrostatic panel. The result is sound of unparalleled purity, precision, clarity, and openness—the next best thing to no speaker at all.
Easy Installation & Adjustability
A easy to install, low-voltage DC power supply eliminates the need for a traditional, heavy IEC power cord and increases installation flexibility. MartinLogan's proprietary toolless binding posts make cable connection and management a breeze. Each speaker also includes a single-pivot stand that enables easy installation on a set-top, floor or shelf. Additionally, Motif X may horizontally/vertically mounted to a wall (under or beside a plasma screen, for example).
Low-Distortion Aluminum-Cone Woofers
By eliminating cone flexure, aluminum diaphragms help our advanced-technology woofers achieve the very low distortion necessary for proper blending with MartinLogan electrostatic panels.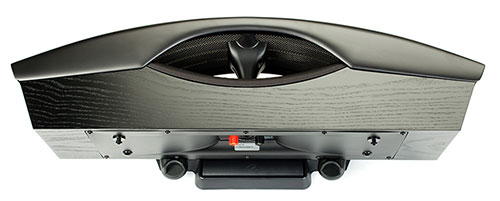 Advanced Vojtko Filtering
Carefully hand-built using only the finest polypropylene capacitors and air-core coils, the crossover employ's MartinLogan's proprietary Vojtko topology for vanishingly low distortion and seamless driver integration. This precision-tuned network preserves even the most microscopic sonic nuances while handling the full dynamics of any source.
On-Wall/Off-Wall Acoustic Contour Switch
Motif features a unique 'on-wall/off-wall' switch that tailors acoustic equalization to either installation option. Simply set this switch to On-Wall if mounting to a surface. Set the switch to Off-Wall if the Motif is more than four inches from a wall. Setting this switch ensures that you will achieve total system matching in even the most diverse setups (such as systems mixing on-wall and off-wall installations).
Specifications
Frequency Response

73–20,000 Hz ±3dB

Horizontal Dispersion

30°

High Frequency Transducer

One 1" x 1.4" (2.6cm x 3.6cm) Folded Motion Transducer with 5.25" x 1.75" (13.3cm x 4.4cm) diaphragm.

Mid Frequency Transducer

Patented CLS™ XStat™ electrostatic transducer

» Panel Dimensions

5.4" × 15" (13.7 × 38.1cm)

» Radiating Area

81 in2 (522 cm2)

Low Frequency Transducer

Two 5.25" (13.4 cm) cast basket, aluminum cone with extended throw driver assembly, non-resonant asymmetrical chamber format; shielded

Sensitivity

89 dB/2.83 volts/meter

Impedance

6 Ohms. Compatible with 4, 6, or 8 Ohm rated amplifiers.

Recommended Amplifier Power

20‒300 watts per channel

Crossover Frequency

460, 4000 Hz

Components

Air core coils

Inputs

Custom binding posts

Weight

22.5 lbs. (10.2 kg)

Dimensions (with non-skid feet)

7.6" × 29.75" × 9"
(19.3cm × 75.6cm × 22.9cm)

Dimensions (with stand)

10" × 29.75" × 9"
(25.4cm × 75.6cm × 22.9cm)

Specifications are subject to change without notice.



Specifications
| | |
| --- | --- |
| Color | Dark cherry |
| DLNA Certified | No |
| Dimensions (WxHxD) | 7.6" × 29.75" × 9" (with non-skid feet) |
| Dimensions (WxHxD, metric) | - |
| Dimensions (notes) | 10" × 29.75" × 9" (with stand) |
| Weight (lbs) | 22.5 |
| Unit of measurement | ea |
| Power Handling (Nominal) | - |
| Frequency Response +/-3dB | 73-20,000 Hz +/- 3dB |
| Sensitivity (1W/m) | 89 dB/2.83 volts/meter |
| Terminals | Custom 5-way binding posts |
| Impedance | 6 Ohms Compatible with 4, 6, or 8 Ohm rated amplifiers. |
| Tweeter | - |
| Midrange Driver | - |
| Woofer | - |
| Crossover Frequencies | 460, 4000 |
| Crossover Type | Hz |
Reviews